Urine Drug Screening
Urine drug screening has been a mainstay for several years now. Employers, the court system, the police department and schools have all used urine screening for the War on Drugs. Urine drug tests are an effective, yet invasive method for detecting drugs in one's system. Privacy advocates for years have tried to call a halt to urine drug testing since direct or indirect observation of the screening process may cause anxiety, embarrassment and humiliation in those being screened.
| | |
| --- | --- |
| Urine Drug Screening | |

Many have retaliated against the urine testing process by tried to beat or cheat the system. Drug-free clean human urine samples and delivery systems may be purchased online. Detox drinks, adulterants or masking agents also may be purchased and used to skew the results in favor of those being tested.
Parents have also been turning to urine tests to see if their teens are on drugs or because of a court order that random testing must occur as part of probation of a youth. Teens are wise these days and may also use the same methods as adults to cheat the test results.
One problem with the urine testing process has been an inordinate amount of false positive results. For instance, those taking Zoloft for depression may show up as positive for benzodiazepines. This kind of false positive could wreck a reputation, a family life and / or a career. Some of the other legal substances that can cause false positives include antibiotics such as Penicillin and Tetracycline, cold remedies, diet pills, allergy medications, pain relievers such as Ibuprofen, dental and medical treatments such as Novocain and poppy seeds.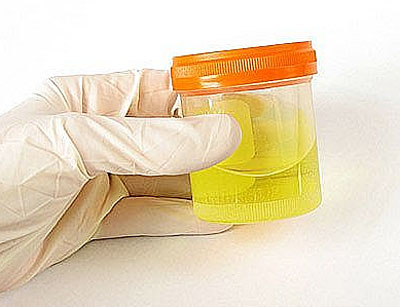 Urine testing began in the U. S. in 1970 as a way to curb drug abuse in the military in Viet Nam. An accident on the carrier Nimitz revealed that many sailors and airmen were taking illicit drugs. In 1986, all Federal employees were mandated to accept the newly developed governmental drug-screening program.
Urine was designated as the only acceptable specimen for drug screening and was made law in 1988. Using urine specimens was found to be less invasive than blood samples and focused everyone on urinary metabolites and set drug cut-off concentrations appropriate for urine only.
Today, more employers are turning to using hair samples for drug screening since direct observation of the taking of the samples in less invasive that urine or blood samples. Because the wheels turn slowly with any large bureaucracy, the U. S. government has been slow to turn away from urine tests to less invasive methods.
Even though there are cheating methods for hair samples as well, they're less likely to succeed that cheating on a urine test. Only time will tell how quickly urine drug testing is abandoned in favor of other less privacy-sensitive methods.