Employee Drug Testing
Employee drug testing is a major part of a drug-free work environment. In addition, employee substance abuse testing can save a company thousands of dollars in sick days, worker's compensation claims and unemployment benefits. Post-hire employee drug tests are a good start for insuring a drug-free workplace.
| | |
| --- | --- |
| Employee Drug Testing | |

Employers need not stop there, though. Because 77-percent of all drug abusers are employed, and 65-percent of all workplace accidents are related to drug abuse, it makes sense for companies to perform drug testing on current employees as well.
Pre-employment drug testing can only be performed in most states once a conditional offer for employment has been made.
In order to conduct pre-employment drug testing, the potential employer needs to:
1. Inform the potential employee during the job interview of the company's requirement
2. Have the candidate sign and date a permission form for the drug testing
3. Print the employee drug test requirement in the employee handbook and in other documents that appear in high-traffic areas in the workplace
Informing employees upfront about the required pre-employment and current employment drug testing policy will save companies many headaches later and will ensure that everyone is on the same page right from the get-go about the policy.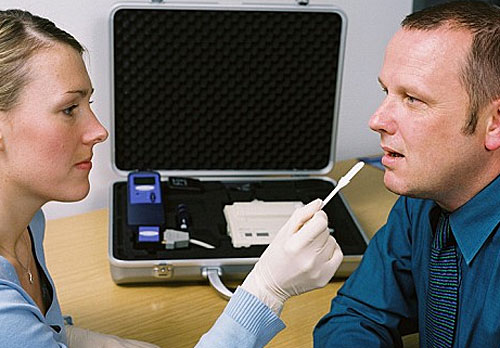 Employee Saliva Drug Test
For those concerned about employee drug testing versus invasion of privacy issues there are several items that need to be considered. For many of the drug tests, direct or indirect observation can be seen as degrading by those being tested (this is why hair follicle testing is now becoming popular). If urine screening is being conducted, the existence of many other physical and medical conditions, including genetic predisposition to disease - or pregnancy can be seen as an over-reaching type of invasion of privacy, specifically being tested for areas that are not related to drug or alcohol abuse. The ratio of false positive results for labs that have a hard time distinguishing between legal and illegal substances for many is unacceptable and can lead to defamation of character charges.
Some people feel that employee substance testing is invasive since it mostly punishes what employees do in their off-time in the privacy of their own homes. Many employees, though agree that employee drug tests do make sense for safety-sensitive occupations like airline pilots, air traffic controllers, school bus drivers, truck drivers, train engineers and others. According to the ACLU, "Computer-assisted performance tests, which measure hand-eye coordination and response time, are a better way of detecting whether employees are up to the job. NASA, for example, has long used task-performance tests to determine whether astronauts and pilots are unfit for work - whether the cause is substance abuse, fatigue, or physical illness."
The ACLU goes onto say that Employee Assistance Programs (EAP's) are the way for employers to go instead of drug testing. EAP counselors help employees cope with health, finance, emotional or substance abuse problems that can affect job performance and are designed to rehabilitate the employee instead of punish them.
With 50 million drug tests given to potential employees last year, the screening for substance abuse problems is not going away any time soon. Hopefully, employers can come up with drug-free workplace programs that are meant to screen out potential problems upfront, rehabilitate the current workers who need help and do so in a non-invasive manner that protects the worker, the company and the community at large.