Home
About Us
Contact Us
Privacy Policy
Addiction Blog
Resources
Advertise
REHAB CENTERS
Detox
Inpatient
Outpatient
Residential
Adolescent
Christian
12-step Alternative
Voluntary
Holistic Treatment
DRUG INFO
Club Drugs
Addiction Treatment
Dealers
Drug Free
Rehab Centers
Programs
Testing
Employee Testing
Illegal Drugs
Just Say 'No' to Drugs
Prescription Abuse
Prescription Addiction
Slogans Against Drugs
Street Prices
Street Drugs
Urine Screening
War on Drugs
ALCOHOL INFO
Addiction
Cravings
Facts
Prohibition
Recovery
Rehab Centers
Testing
Treatment Program
Withdrawal
RECOVERY STEPS
Denial in Addiction
Barriers to Change
Breaking Barriers
Recovery Process
Relapse Prevention
Symptoms of Addiction
HOW TO MAKE ...
Cocaine
Crystal Meth
Ecstasy
Heroin
LSD
Opium
PCP
HOW LONG DOES ...
Alcohol Stay in Your Body or System?
Cocaine Stay in Your System or Body?
Meth Stay in Your System or Body?
ARTICLES
Assertiveness Training
Breaking the Habit
Cocaine Effects
Cocaine Facts
Crack Cocaine
Crystal Meth Effects
Drug Alcohol Interventions
Drug Trafficking
Ecstasy Facts
Famous Addicts
Heroin Addiction
Heroin Effects
Huffing
Huffing Addiction
LSD Effects
Methamphetamines
Oxycontin Addiction
Sobriety Bracelets Patches Pills and Other Devices
Teen Drug Addiction
Famous Celebrity Addicts
List of Famous Celebrities Who Have Been In Rehab
Here is a list of celebrities and the famous, past and present, who have been in the news for having been in rehab for one kind of addiction or another. Drug and alcohol addiction knows no boundaries when it comes to social classes, wealth, ethnicity or status. Addiction is a part of every group of people everywhere.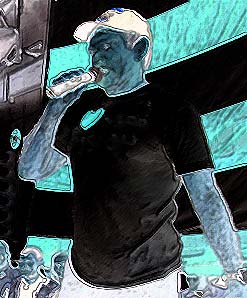 Betty Ford
Kirsty Alley
J. Paul Getty, Jr.
Robert F. Kennedy, Jr.
Robin Williams
Robert Downey, Jr.
Ray Kroc
Eminem
Patrick Kennedy
Ben Affleck
James Frey
Nick Nolte
Jan Michael Vincent
Nick Carter
Boy George

Michael Jackson
Keith Richards
Robert Mitchum
Judy Collins
Rush Limbaugh
Johnny Cash
Joaquin Phoenix
Pat O'Brien
Elton John
George Jones
Kurt Cobain
Courtney Love
Leif Garrett
John Belushi
Eileen Brennan
Daniel Baldwin
Corey Feldman
Corey Haim
Marion Barry
Whitney Houston
Bobby Brown
A. Whitney Brown
Glen Campbell
Dwight Gooden
Darryl Strawberry
Jerry Garcia
Samuel L. Jackson
Leonard Nimoy
Kelly Osbourne
James Brown
Lenny Bruce
Chevy Chase
Robert Blake
Eddie Van Halen
David Crosby
Judy Carne
Billy Holiday
Grace Slick
Iggy Pop
Richard Carpenter
Dr. John
Randy Moss
Andy Dick
Heidi Fleiss
Pat Day
Tara Conner
Al Unser, Jr.
Jim Ramstad
Roy Simmons
Bela Lugosi
Mickey Rourke
Amy Winehouse
Naomi Campbell
Patrick Swayze
Ted Kennedy
Haley Joel Osment
Anna Nicole Smith
Vitas Gerulaitis
Ozzy Osbourne
Stevie Ray Vaughan
John McVie
Hank Williams III
Paul Williams
Franz Wright
Christopher Kennedy Lawford
Annie Leibowitz
Mackenzie Phillips
Jo Dee Messina
Danny Bonaduce
Dennis Quaid
Jenna Bush
Lamar Odom
Mike "The Situation" Sorrentino
Peter Sellers
Josh Brolin

Noelle Bush
Dick Cheney
Mel Gibson
Michael Douglas
Matthew Perry
Charlie Sheen
Paula Poundstone
Kate Moss
Ray Charles
Johnny Depp
Mary Tyler Moore
Richard Dreyfuss
Philip Seymour Hoffman
John Daly
Keith Moon
Ted Turner
George C. Scott
Tony Curtis
David Gahan
Wynonna Judd
Britney Spears
Wilson Pickett
Carrie Fisher
Nell Carter
Billy Bob Thornton
Chris Webber
Onterrio Smith
Tom Sizemore
Drew Barrymore
Dick Van Dyke
Larry Hagman
James Galdolfini
Pete Doherty
Kiefer Sutherland

Elizabeth Taylor
Colin Farrell
Etta James
Rick James
Buzz Aldrin
Chris Penn
Jason Priestley
Prince Harry
Tom Arnold
Brett Butler
Dionne Warwick
Ken Caminiti
Jennifer Capriati

Tonya Harding
Truman Capote
Liza Minnelli
Martin Lawrence
Melanie Griffith
Jeff Conaway
Tatum O'Neal
Lindsay Lohan
Shelley Winters
Eddie Money
Jessica Hahn

Christian Slater
Alice Cooper
Winona Ryder
Demi Moore
Nicole Richie
David Bowie
O.J. Simpson
Jim Brown
Joe Louis
Mike Tyson
Joe Namath
Lawrence Taylor
Steve Howe
Gerry Cooney
Dennis Rodman
Dock Ellis
David Soul
Stacy Ann Ferguson "Fergie"
Oliver Stone
Jessica Sierra
Chyna
Representative Mark Foley

Richard Pryor
George Carlin
Richard Lewis
Rodney King
Jean-Claude Van Damme
Bo Bice (American Idol)
Dr. Bob
Brittany Murphy
Cory Monteith
Nick Carter
Zac Efron

This list of famous and celebrity addicts is by no means comprehensive. Sometimes it is helpful that people who are struggling with addictions know some famous names that have struggled or are struggling with the same issues. It helps one to not feel so alone in the process.