Alcohol Recovery
Alcohol recovery is different for everyone. When it comes to recovery from alcoholism some take a linear path, but most take a more erratic and haphazard path to maintaining sobriety. Those in recovery may have decided on their own to let go of their addiction or been encouraged by family, friends, an employer, the court system of a life event to take action.
| | |
| --- | --- |
| Alcohol | |

Many of those in an alcoholism recovery program have made many attempts to gain and maintain sobriety. Some are hard on themselves for "falling off the wagon" again.
What those in recovery need to realize is that setbacks are to be expected. Most people with an alcohol dependency problem do not just stop cold turkey without making several attempts and falling off the wagon several times first. Setbacks are a normal part of the recovery process.
A few people are blessed with the ability to stop drinking all on their own and maintain sobriety. Most, however, will need a program such as Alcoholics Anonymous or an inpatient or outpatient treatment program to help with the cravings, withdrawal symptoms and underlying issues that compels one to drink in the first place. Many find a support group of like-minded individuals to be invaluable in the recovery process.
The recovery process is different for everyone, but there are some standardized treatment programs that will aid many in their own personal recoveries. AA or another 12-step program, hospital or residential treatment programs offering medical treatment and psychotherapy and holistic treatment programs are a few popular programs for those seeking alcohol recovery assistance.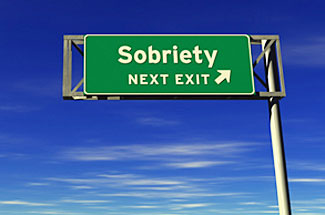 Road to Sobriety
Three of the key components in dealing with alcoholism are dealing with the cravings, withdrawal symptoms and underlying issues compelling one to drink. Alcohol rehab programs need to deal with each of these areas and show the alcohol dependent person that he or she has some control in each of these areas for the recovery process to be effective.
Cravings can be both physical and psychological and the addicted person needs to know that though they cannot control the cravings, they can control the action of taking a drink in order to dampen the cravings. Withdrawal symptoms can be mild, like a hangover, to life threatening. For those with a long history of heavy drinking, professional medical assistance will be necessary during the detox period in order to safely deal with the withdrawal symptoms. Therapy will also be necessary for most in order to deal with the underlying issues compelling one to drink. Unresolved grief, anxiety and beliefs will need to be addressed in a safe environment, so that the emotional energy behind the compulsion to drink can be dissipated.
Support groups also aid those in recovery. Even though recovery is a personal path everyone must travel individually, many find solace in others in similar situations traveling down similar paths at the same time. Feelings of isolation can be dealt with in a support group setting and new friendships with a vested interest in healthy and alcohol-free living can be bonded.
Conclusion
No matter which path is chosen, for most just getting on the wagon for recovery is the most important aspect of one's life.