LSD Effects
LSD effects may be experienced on a physical, psychological, spiritual and sensory level for those who take the drug. Certain effects like flashbacks, good trips and bad trips are commonly reported by those who have taken the substance.
| | |
| --- | --- |
| LSD Effects | |

The effects of LSD vary greatly by user, situation, dosage and tolerance. In fact, the effects of LSD have a broader range that almost any other illegal substance. These effects can last for 30 minutes to 14 hours and in same cases, secondary residual effects can last for 3 days or more.
LSD is one of the hallucinogenic class of drugs and its effects cause the user to feel a sense of expansiveness and altered awareness such as time, motion, senses and emotions. Illusions, vivid daydreams and moving geometric patterns are also some of the effects experienced by many to take the substance. Others may see two-dimensional objects in 3D and wild color changes in people and objects.
Some have taken LSD as a part of a ritual in order to attain some form of spiritual enlightenment. In the 1960's Timothy Leary, a Harvard PhD., advocated for religious graduate students to take LSD in order to access the divine. Leary's most famous catchphrase was "Turn on, tune in, drop out" when advocating for psychedelic and hallucinogenic drugs.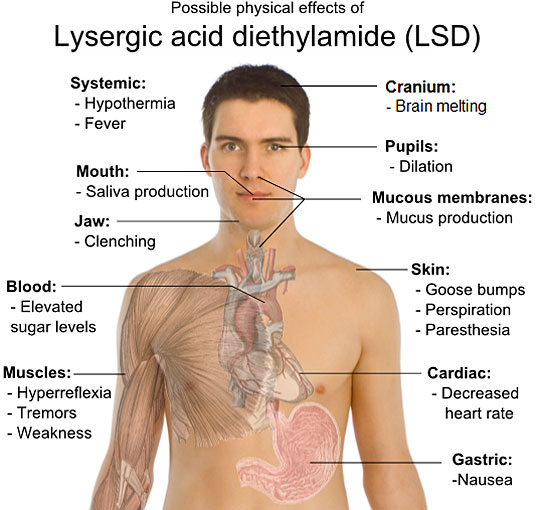 Possible Physical Side Effects of LSD
The psychological effects of LSD may be completely different among those who take the substance. Effects vary by physical and social environment, personality of the user, dosage and mindset. One person may have a "good trip" while the next person may experience a "bad trip" under the same conditions.
The person who has a good trip may be ecstatic and experience euphoria while the person on the bad trip may experience a crisis of panic at the distortions and unexpected visual and sensory feelings that the drug brings forth. They may also experience frightening flashbacks, terrifying thoughts and feelings, fear of losing control and fear of insanity and even death. LSD can also trigger recurring flashbacks when the user is no longer taking the drug.
Some of the physical effects of using LSD may include goose bumps, increased heart rate and euphoria. Other LSD side effects may include uterine cramps and contractions, hyperthermia, jaw clenching, perspiration, saliva and mucous production, sleeplessness and tremors.
The major negative effects of using LSD use lay in both psychological harm and physical harm. LSD has been implicated in triggering psychosis including schizophrenia and severe depression. Those who are tripping on LSD are prone to personal injuries including death when moving from their original settings because of the altered awareness of their surroundings and the world at large. Those who take the drug repeatedly have to do so in progressively higher doses to achieve the same effects, which can trigger a whole host of health problems due to the unpredictability of this drug.