Drug Addiction Treatment
Drug addiction treatment needs to be readily available to those in need. If treatment is not readily available in their geographical location, then many abusers will be lost to addiction. Since no single drug treatment program works for everyone, multiple programs need to be available, so that one can choose which program will work best for them.
| | |
| --- | --- |
| Eye on Addiction | |

Drug treatment programs also need to address other life issues outside of the addiction problem. Medical, psychological, social, vocational and legal problems also need to be addressed in order to assure long-term results. Because a person's addiction recovery process does not typically follow a linear course, drug treatment plans need to be modified frequently to coincide with the individuals changing needs. Changes in medication, parenting tips or short-term family therapy for example may be needed during specific periods of treatment.
Drug treatment programs also need to take into account a person's gender, age, ethnicity and culture in order to be effectively targeted and customized to fulfilling as many needs as possible. People with drug addictions need to stay in treatment long enough for it to be effective in the long-term. Many, however, will drop out prematurely. Research has indicated that for most people, 3-months are the minimum threshold for effective treatment and longer treatment yields even better long-term success percentages. Addiction facilities need to find ways to keep drug dependent individuals engaged long enough for treatment to be successful.
Individual and/or group counseling is necessary in order for treatment to be effective. In therapy sessions, drug dependent persons discuss craving and withdrawal symptoms and how to effectively deal with them, dealing with peer pressure, resisting drugs, constructive activities to replace drug use, ways to improve interpersonal relationships and better functioning within families and the community.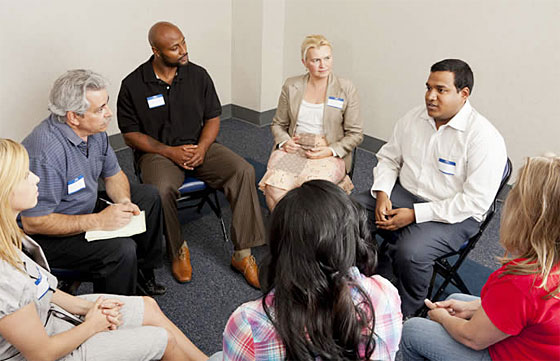 Group Therapy
Medications can be helpful in drug treatment. Medications such as methadone, levo-alpha-acetylmethadol (LAAM) are helpful for those with heroin or other opiate addictions and naltrexone (Vivitrex) can be useful as well, plus naltrexone can be useful for those with co-existing alcohol dependence problems as well. Co-existing mental disorders also need to be treatment with medication and therapy in order to assure a possible drug treatment outcome.
According to research, treatment does not have to be voluntary to be effective. Sanctions from the courts, an employer or family members is often enough to significantly increase entry and retention rates into treatment and provide a successful outcome. Drug testing during drug treatment can also serve as a deterrent to continuing drug use and as a way of monitoring and providing feedback for successful treatment.
Drug treatment often involves setbacks. The course for any individual's treatment will not likely be a linear one and setbacks or relapses are to be expected. Plans should be made in advance for such occurrences and strategies should be formed on how to deal with these episodes.
For more information on addiction treatment see the National Institute on Drug Abuse website including a free downloadable PDF booklet, "Principles of Drug Addiction Treatment."