Drug Rehab Programs
Drug rehab programs vary widely. Most treatment programs are either medically-based, spiritually, socially or holistic in approach. Residential, inpatient, outpatient, and detox options are offered at most centers overseeing treatment. Research clearly states that the best results from drug rehab methods come from those who have been in a program 3-months or better.
| | |
| --- | --- |
| Drug rehab center | |

Drug rehab treatment many times co-exist with centers that also offer alcohol programs as well. This is because many who check in with dependency problems have dual-diagnoses of alcohol and substance abuse and need treatment for both. Though there are many similarities between drug and alcohol rehab programs, there are also some distinct differences as well. Withdrawal methods for alcohol are the same whether the beverage of choice is beer, wine or hard liquor. Withdrawal methods from drug dependency varies as to the specific type of drug addiction.
For instance, some drug programs such as Narconon, "… does not use drugs or medications to solve the problems caused by drugs, but does use nutrition and nutritional supplements as an important component of its delivery. Thus the program is neither a psychiatric nor medical, but a social education model of rehabilitation." Other treatments will use drugs and even anesthesia to rapid detox from drugs such as codeine, heroin, morphine and opium addictions.
The programs using anesthesia do so under supervision of a board-certified anesthesiologist in a medical facility and essential lets the chemically dependent person sleep through the painful withdrawal symptoms of these specific drugs.
Medically-Based Drug Rehab Programs
Medically-based drug addiction programs are conducted at a medical facilities set up specifically for those with substance abuse problems such as licensed hospitals. Physicians and nurses are available for constant monitoring to ensure safe withdrawal and oversee the recovery process.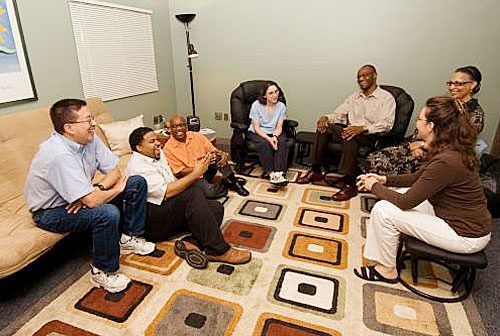 Traditional Group Counseling
Spiritual Treatment
Spiritual addiction treatment includes the 12-step programs that give their will to a 'higher power' or Christian programs that use both the 12-step methods and the Bible( plus the support of like-minded individuals) to accomplish their rehab goals. Many other specific spiritually-based drug programs also exist within the traditional religious framework or alternative frameworks such as metaphysics.
Social Programs
Social addiction rehab programs such as Narconon do not have 'patients' in the program, preferring the term 'students'. Students do not recover from illnesses but rather learn something they don't already know and graduate the program whenever enough life skills are acquired to obtain a new drug-free life. According to Narconon, "If graduates do run into serious difficulties, they return to their Narconon center where they inevitably find a specific part of the program that they earlier failed to fully understand and therefore could not apply in the travails of daily life."
Holistic Treatment
Holistic treatment usually focus on a mind, body and spirit approach to chemical dependency. These programs may rely on traditional drug dependency healing methods along with non-traditional methodology in order to achieve the desired results. Some alternative holistic methods which may be used in recovery include use of nutritional eating and dietary and nutritional supplements, meditation, yoga, visualization, biofeedback, exercise and relaxation tapes to name a few.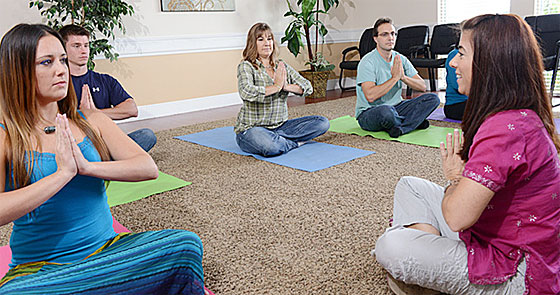 Holistic Drug Rehab Program
Most inpatient drug treatment programs occur inside a licensed and accredited hospital setting under the care of physicians and nurses. While most inpatient care is long-term (3-months or more), shorter term care can also be provided.
Residential drug treatment programs do not have the same rigid requirements for care that inpatient facilities do, but they do offer many a break from the sterility of the hospital setting. Many residential programs are offered in a getaway setting as a camp, ranch or other natural and peaceful environment.
Outpatient programs are usually for those who do not have a long history of drug dependency and are able to work out their issues while still attending school or work. Support group meetings also offer additional support to those in outpatient programs to help keep the individual stabilized and functioning in a real world setting.
While most drug rehab centers do not offer a detox program solely, most centers do offer detox options as the first step to one of their other treatments. The body must first undergo a physical withdrawal from the dependent substance before any ongoing treatment can proceed. Since severe withdrawal can be life-threatening (heart attacks, stroke, seizures, etc.) it is important that the drug rehab center of choice is set up for 'worse case scenario' withdrawal.
Conclusion
No matter what the drug dependency problem is, though, the most important step is to just get started. Pick a drug abuse treatment program that you would like to be associated with for the next 3 or so months, that fits your budget, insurance, lifestyle and get started. The time is now to say 'Yes' to the rest of your life or that of a loved one. Information on alcohol treatment programs may also be useful.