Crack Cocaine
It is hard to believe that crack cocaine comes from an innocuous little leaf from the coca plant. There is nothing remarkable looking about the plant, but it has been a popular remedy for all sorts of ailments for thousands of years. Originally, from South America, ancient native people often chewed it and it was even used in the very first formula for Coca-Cola in the 1800s. In fact, cocaine was sold in pharmacies. It wasn't until the 20th century that cocaine was found to be very addictive and therefore stopped being sold publicly.
| | |
| --- | --- |
| Smoking Crack Cocaine | |

There are various forms of cocaine with crack possibly being the worst of the lot, simply because you can experience a high within seconds. Crack, as it is commonly referred to, is not snorted through the nose. Rather, it is smoked with a crack pipe. Crack is derived from the powder form of cocaine. The drug is simply dissolved in a baking soda and water solution and then boiled. The water evaporates leaving behind solid material, which is called crack cocaine.
Highly addictive and cheap to make and buy, millions are hooked on that euphoric feeling and will do whatever it takes to keep it going. The trend is alarming. Crack has invaded the lives people from all walks of life. It's a common belief that this drug only effects people who live in low income neighborhoods, but nothing can be further from the truth. In today's world, getting crack is usually as simple as finding a hook-up for the drug on just about any street corner in large cities and even in quiet suburban areas one can just ask around to find a quick local connection.
With this in mind, it's more important than ever for people to be aware of the dangers that cocaine can be lurking at their children's schools. Not only is the drug easy to get these days, but it is also one of the hardest addictions to overcome. When you take into account how easily crack can take someone's life over, it's no wonder how hard it can be to regain control.
Heart attack and stroke are two common ways that crack addicts die from this drug threat. In addition, crack cocaine can cause anxiety disorders, paranoia, hallucinations and stomach distress. Many crack addicts are malnourished as a result lack of interest in eating and sleeping. If you suspect that a loved one is addicted to this drug, here are the top 10 warning signs to keep in mind.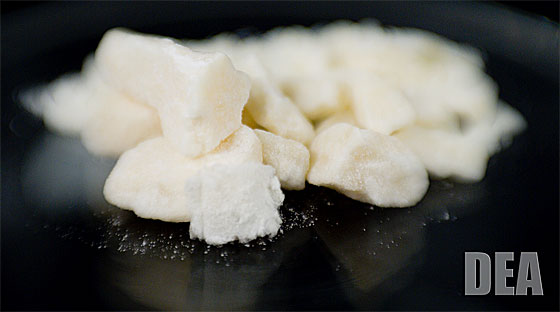 Picture of Crack Cocaine from the DEA website
Top 10 Warning Signs of Crack Abuse
1. Unexplained mood swings and energy levels
2. Burns or sores on the fingers (from a pipe used to smoke crack)
3. Declining grades and new peer group
4. Extreme paranoia
5. Loss of household cash or valuables
6. Weight loss
7. Associating with others known to take drugs
8. Loss of interest in personal appearance
9. Mark agitation and loss of concentration
10. Altered sleep patterns
There are a variety of additional symptoms that could indicate a cocaine addiction. Whether a loved one or you yourself are addicted, it is important to seek help as soon as possible. Being hooked on crack is a vicious cycle. It takes the intervention of loved ones or your own willing to seek help to break that cycle in order to receive rehabilitation.
The road back to a normal, healthy life will have some rough navigation within the treatment and counseling settings as well as the withdrawal process. It's important to remember that setbacks are a normal part of the recover process for many. The most important part of the process, however, is making the commitment to get started with treatment. Once this commitment has been made, a better and healthier life can follow.