Cocaine Effects
Cocaine effects are numerous particularly for the long-term user of the drug. Effects can be broken down into the short-term gratuitous feelings one gets when taking this illicit substance and the long-term negative effects on one's health and social relationships.
| | |
| --- | --- |
| Cocaine Being Cut | |

The short-term effects of cocaine include feelings of euphoria, empowerment and energy. Some report a heightened sexual prowess while taking the drug. Others report better focus, mental clarity and excitement for whatever activity they are doing. The euphoric effects of smoking crack cocaine will last for 5 - 10 minutes and from snorting from 15 - 30 minutes.
But, by being a highly addictive substance, the short-term feelings for the new user are quickly supplanted by more longer term negative effects. Long-term effects of Coke include many health problems not anticipated by the user as most often the addict thinks he or she can quit at any time.
Bloodshot eyes, running or bleeding nose, eating and sleeping disorders, withdrawal, depression and anxiety are just a few of the effects of cocaine use. Other effects may include anxiety attacks, paranoia, heart palpitations and even cardiac arrest. Along with a cocaine high, there is always a crash from coming down from that high.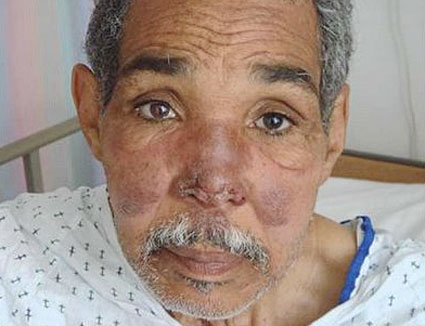 Cocaine has caused erosion of the nasal passages
Irritability, fatigue and depression will ensue and the depression may become chronic. It must be noted also that some people with pre-existing chronic depression turn to cocaine in order to self medicate instead of taking the proper prescribed medications.
Cocaine effects are not only physical, however. The effects of Coke use usually take a large social toll as well. Withdrawal from social relationships, changing of friends to "druggie friends", marital discord, estrangement from children and other family members is seen quite often with cocaine users. Disruptions on the job, financial crises and spiritual estrangement are also come of the common effects of cocaine abuse.
Cocaine is the second most popular illicit drug in the U. S., second only to marijuana. The effects of cocaine abuse are many in regard to health, social relationships, job, family and finances. Robust and empathetic cocaine rehabilitation at a qualified facility is the most effective way to give the addict his or her life back and should not be put off.