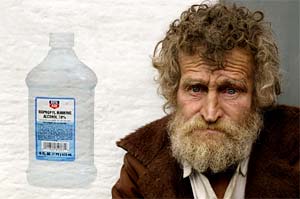 In British Columbia, Canada there was a study conducted by University of Victoria that stated that the hiking of alcohol prices along with the controlled administration of alcohol for the homeless would actually reduce addiction and binge drinking.
The wisdom of the study sounds counterintuitive so let's spend a minute discussing the reasoning behind this proclamation. The study says that in British Columbia (BC) that the price of alcohol is relatively cheap compared to other provinces. Raising the price of alcohol would discourage some drinkers while it would encourage low-income or no-income homeless people to get drunk or high off traditional alcoholic drinks.
For instance, the price of rubbing alcohol, hairspray, mouthwash or antifreeze may be a cheaper and more deadly solution which some homeless people are currently using and if the price of traditional alcohol were to go up, then most likely so would the use of these alternative methods of intoxication.
Giving free alcohol along with "harm-reduction programs" for homeless people are actually achieving positive results in pilot studies including one in Ontario. Admittedly this may not be the optimal solution, but if it lessens the death rate as has been reported, then it is worth expanding the pilot program and checking results on a broader scale.